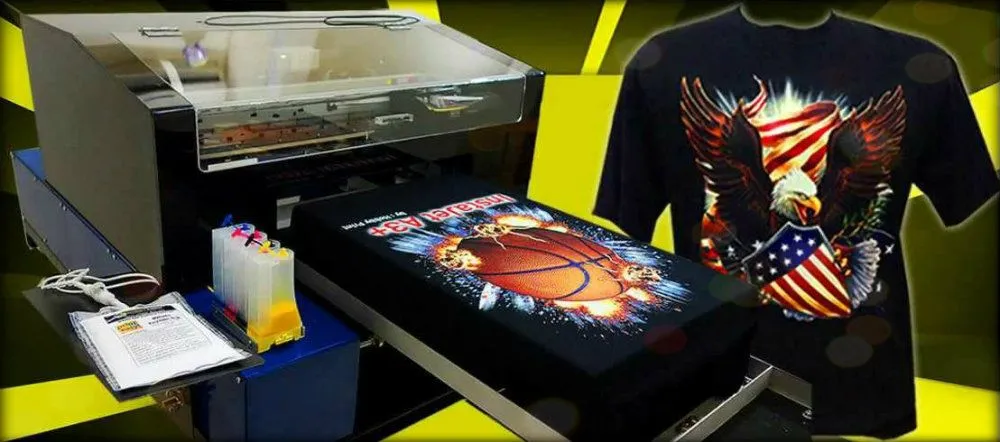 Dye Sublimation Printing 
One of the popular types of digital printing, Dye Sublimation, is a technique to imprint various images on fabric or chosen substrate using ink and heat. You might have seen the sublimated shirts, banners, and signs. This article explains sublimation printing or All-over-print, its working, merits, and demerits. It also discusses using sublime techniques to make various adorable and unique clothing and other accessories with sublimation-safe materials.
What Is Dye Sublimation?
It is a digital printing sublime technique that uses printer-ink and heat to transfer a graphic design onto a fabric or other hard or soft material. It is also known as Digital sublimation or Dye-sublimation printing, a modern computer digital printing technique that designs colorful artwork on different fabrics or non-fabric materials. Usually, polyester and polymer-coated substrates are the best to get benefit from sublime printing.
Often, dye sublimation is used for the following decor.
Sublime printing cloths
Standard t-shirts with sublimated prints and caps
Apparel
Table Cloths
Banners
Flyers
Signs
Canvas Work
Coffee mugs
Sublimated ceramic tiles for offices, kitchens, libraries, or museums.
All these kinds of stuff and many other exclusive products are being digitally sublimated with sublimation-friendly surfaces, which include paper, coated plastics, card stocks, etc. Canvas and treated cotton are suitable for sublimated prints. However, polyester or blended fabrics with polyester are best for dye sublimation.
The Process of Dye Sublimation 
Here are the steps for transferring prints digitally  on the chosen substrate or fabric.
Step-1
With the help of a specialized sublimation printer or ink desired design is first printed onto sublimation-friendly paper. This process transfers designer graphics to the paper using multi-color or full vibrant color ink gels. The ink gets absorbed into the design on sublimated paper.
Step-2
Using a heat press, transfer the ink-on-paper design to the chosen substrate. In the heat press, the ink is fused into the substrate properly so you can feel the graphic design is part of the substrate. It sounds soft and has an embedded design.
The ink diffuses and penetrates the substrate fibers due to heat and pressure. The solid ink is converted into a gaseous form, which can easily penetrate, become solidified, and get imprinted when heat is removed.
How Does Dye Sublimation Work?
The special ink transfers the print on the sublimated film and then heat and pressure from the printer machine to get the image onto the fabric or other hard object with at least 50 % polyester.
Ink in a solid form is converted into the gaseous form directly without passing through the middle liquid phase and imprints the design perfectly. The transfer paper or ink gets close to the chosen fabric and undergoes heat and pressure, allowing the ink to penetrate deep to make it feel like an embedded design.
The technique can be used in the fashion industry, interior decoration, sportswear, and other promotional objects for an e-commerce business. Below are the advantages and disadvantages of this modern digital printing technique.
Merits
You can get classy prints on your desired objects, including grass, natural pics, and cupcakes.
Easy to apply prominent and vibrant color schemes on multiple things.
No cracking will occur even after countless piles of washing.
Permanent and full-color prints
No minimums and have high-quality prints than in usual traditional printing
No feel looks like a natural print
Better quality images and designs quickly and with less energy is required.
Demerits
Slightly expensive
The dye sublimation cannot print white.
 It does not apply to cotton or silk material.
Dye sublimation printing on fabric is popular worldwide. Dallas is famous for conferences, seminars, and great company meetings. You can find the sublimation services to prepare your company banner for your business promotion.
DFW sublimation, sublimation printing tx, are practical and efficient sublimation services at affordable rates. Digital printing sublime technique is helpful for indoor and outdoor signages. It can also utilize fabrics for customized or unique designs. All-over-print t-shirts are prepared on demand and are equally popular among teens, old, and kids.
Dallas Shirt Printing is a unique service with a wide printer to cover large-size printing. When ink is injected into a prepared print, it penetrates and seems like a part of the fabric with a soft feel. It also works on the same formula of dye sublimation as it transfers prints on the substrate with ink and heat. Plastic or rigid materials like brass, glass, aluminum, acrylic, and fiberglass are best applied.
If you are interested in sublimated t-shirts, you can do the following.
You can contact the us and send your request.
The professionals see your desired prints and ask about your preferences.
You can transfer customized prints on any material quickly or ask the officials to select the appropriate design for your work.
A highly professional and skilled team produces high-quality visuals with fine finishing.
The sublimation supplies Dallas, TX, and offers services and support to satisfy its customers.
Final thoughts
Digital printing is added to the limelight of new, upcoming fashion and home industries. The heat and pressure can imprint the image/print onto your desired place or thing. The sublimation technique is speedy and cost-effective, so that you can get the sublimation services on fabric and other rigid objects, and Sublimation Printing Dallas is an excellent service.